¿A DONDE VOY YO?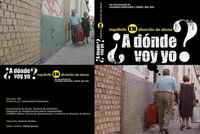 La inversiones públicas de rehabilitación de amplias zonas urbanas del centro de Sevilla que se produjeron con motivos de la Expo 92 y el plan Urban en la década de los noventa, atrajeron a numerosos inversores que favorecieron las operaciones especulativas, produciéndose una importante expulsión de vecinos del centro. Grandes zonas del casco viejo y los antiguos arrabales de Triana y San Bernardo habitados históricamente por clases populares son espacios altamente codiciados por sectores con economía alta. Los inquilinos acogidos a leyes que garantizan su permanencia empiezan a ser ciudadanos incomodos para los propietarios.
Los precios de los edificios sin inquilinos suben estrepitosamente frente a los edificios con arrendamientos antiguos. Esta situación se agudiza por el incremento continuado del precio de la vivienda en un proceso especulativo imparable. Se utilizaran todo tipo de mecanismos para generar el agotamiento emocional de estos inquilinos y el agotamiento del propio edificio. Se hace visible el mobbing (violencia física y psicológica utilizada para obligar a la gente a abandonar su hogar con fines especulativos).
El documental descubre otro rostro de Sevilla. El que muestra el mas perverso de los efectos de las operaciones de rehabilitación urbana y las políticas especulativas: el acoso inmobiliario con sus secuelas mas inmediatas sobre ciudadanas y ciudadanos indefensos a los que hacen sufrir un infierno, en muchos casos, durante los últimos años de sus vidas. En la intención de los autores y promotores esta que este documental contribuya en el debate social sobre un modelo de ciudad, donde a través de la concienciación y sensibilización ciudadana a la implementacion de políticas publicas se pueda poner fin a las siniestras practicas de acoso y a los procesos de expulsión de los vecinos tradicionales de su entorno
Author(s) of the work: OTAINSA GERENCIA DE URBANISMO DE SEVILLA
Published: Wednesday 19 November 2008
Principal themes: Citizenship , Evictions , Right to housing , Social inclusion
The country or countries of provenance: Spain
Key words, tags: ZERO EVICTIONS DAYS 2008
Social action methodology used by the protagonists: Asesoramiento juridico, defensa del inquilino, búsqueda de recursos y derivación, parque social de viviendas a disposicion de usuarios. Mediacion entre propietarios e inquilinos. Estrecha colaboracion con el Sistema Publico de Servicios Sociales. Lucha continuada contra la especulacion inmobiliaria.
Comments
El video ya se puede visualizar correctamete.