How can we and why do we need to house a billion people?
"Finding housing for a billion people, advocacy in public policy on land and housing." This is the new web page where we would like to show that the proposal to create Peoples' Funds for Land and Housing is an objective to which IAI has made a decisive commitment, as part of a broader and more integrated strategy.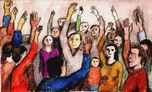 The Madrid Declaration
... we call and support the convocation of a World Assembly of Inhabitants for 2011 ...