Narmada Bachao Andolan- An overview of the 32 year long struggle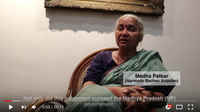 Where this documentary ends, new phase of Narmada struggle has commences. When the dam height was raised from 122 metres to 139 metres between June 2014 and December 2016, that itself was in violation of law and the Apex Court judgements. When there is no permission to close the gates till today, the Apex Court's latest judgement of February 8, 2017 directed that the farmers who haven't received 2 hectares of land as per eligibility should be paid Rs 60,00000 Lakh instead of Rs 5,58,000 Lakh. It also granted Rs 15,00000 Lakh to those who are duped in the corruption scandal exposed by the movement and the High court appointed commission of enquiry. The order also has directed that all rehabilitation sites in Madhya Pradesh state (most affected) should be complete with all amenities as per the Tribunal.
The same order of the court, however has also asked the dam affected families to leave their right to land against the new package of benefits received. The order does not speak about the landless forming 60% of population in each village. Fish workers, shopkeepers, labourers, potters, artisans and all are yet to get their right to alternative livelihood; many are yet to get their House plot and the thousands will have to build their houses before they shift. Many rehab sites are yet not fully constructed and tenders are being passed now. In this situation the State Govt. and the Centre are getting ready to use force and evict people is a plan for unacceptably brutal and undemocratic action.
The Narmada movement is always been peaceful, non violent struggle by people against the powers. They are now intimidated and challenged by powers all ready to wage a war against people. It is the cruel face of development which will have to faced and countered. The movement has appealed to all National and International supporters to question the decision on closure of gates and impounding waters, submerging human rights and justice.
A call of Rally for the Valley has been given by Medha Patkar, from 5-7 June 2017, Madhya Pradesh- Maharashtra- Baroda. Be a part of the Rally for the Valley and extend your support to the thousands of ousters of Narmada Valley
Author(s) of the work: Media Collective
Published: Thursday 12 October 2017
Principal themes: Right to housing
The country or countries of provenance: India
Key words, tags: Displacement, environmental impact, Sardar Sarovar Dam Project, Submergence, Satyagraha Shivraj, Corruption, Narmada Bachao Andolan, World Bank, Medha Patkar, StandWithNarmada, Zero Evictions Campaign
Social action methodology used by the protagonists: -
Comments