"LA IDEA ES QUE NO NOS QUITEN NUESTRO HOGAR": AMENAZA DE DESALOJO EN SUBA (BOGOTÁ D.C.)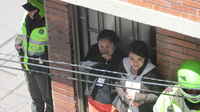 Este video expone el actuar de las autoridades judiciales y policiales bogotanas en contra de las familias trabajadoras de la ciudad, con diligencias de desalojo que constituyen una grave violación a derechos tan fundamentales como la vivienda digna. Don Jairo y su familia han decidido defender su hogar. Desde la Casa Cultural 18 de Diciembre y el Colectivo Víctimas de Banqueros, compañeras y compañeros como Nohora Moreno, mujer cabeza de familia, amenazada de desalojo y hoy candidata a edil en Suba, vienen haciendo acompañamiento y decidido apoyo a las víctimas del sistema financiero y los carteles del remate, así como una diaria lucha por la defensa de la vivienda y de la paz con justicia social... Esta diligencia fue adelantada el jueves 2 de julio de 2015...
Author(s) of the work: Antonio Torres Moreno
Published: Monday 06 July 2015
Principal themes: Right to housing , Evictions
The country or countries of provenance: Colombia
Key words, tags: Derecho a una Vivienda Digna, Paz con Justicia Social., Desalojos
Social action methodology used by the protagonists: A través de la organización en procesos como la Casa Cultural 18 de Diciembre y el Colectivo Víctimas de Banqueros (articulados en una iniciativa distrital llamada Pa´l Barrio-Tejido de Acción y Lucha Popular), familias como la de Don Jairo, amenazadas a ser desalojadas de sus hogares, trabajamos por la unidad para la acción y la movilización en defensa del derecho a una vivienda digna. A través de acciones jurídicas y de movilización, se defienden nuestras casas. En Colombia avanza un Proceso de Paz, el cual comprendemos que, sin Justicia Social, sin vida digna para el pueblo colombiano, será incompleto.
Comments