Solidaridad barrial ante la brutalidad policial en un intento de desalojo.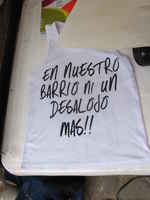 De manera brutal y desmedida, las autoridades arremetieron contra una familia amenazada de ser desalojada en la localidad de Suba, en Bogotá (Colombia). Sin importar la presencia de niños en el interior de la casa, los policías antidisturbios usaron gases lacrimógenos, afectando gravemente a quienes estábamos dentro de la casa. Lo sucedido es muestra de la manera en que el Estado, mediante la corrupción judicial y la brutalidad policial, vulnera el derecho a una vivienda digna a las familias trabajadoras de la ciudad. La agresión sucedió el 18 de diciembre de 2013, pero la amenaza de desalojo sigue latente. Incluso, existen denuncias contra quienes defienden legítimamente su hogar. El video socializado es una noticia publicada en uno de los canales privados del país, RCN. Allí, pese a que se trata de legitimar la acción policial, les resultó imposible ocultar la brutalidad con que las autoridades públicas desarrollaron aquella diligencia o intento de desalojo.
Author(s) of the work: Antonio Torres Moreno
Published: Monday 29 September 2014
Principal themes: Right to housing , Evictions
The country or countries of provenance: Colombia
Key words, tags: Desalojos, brutalidad policial, derecho a la vivienda, organización social.
Social action methodology used by the protagonists: Acción solidaria entre organizaciones sociales y vecinos del barrio.
Comments