The International Tribunal on Evictions denounces violations of the right to housing and land and calls for climate policies based on respect of human rights, beginning from the moratorium of evictions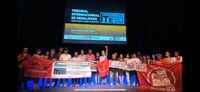 This Session on Climate Change of the International Tribunal on Evictions, the 9th since its creation in 2011 by the International Alliance of Inhabitants as part of the Zero Evictions Campaign, analysed the human rights violations specific to the right to housing and land of 8 cases from all continents, representing 280 million people around the world under threat of evictions due to climate change.
This Session was established thanks to the commitment of the social organizations promoting the Social Summit for the Climate in Chile and Madrid, which were able to face the challenge of doubling the session following Chile's disengagement as a response to Chile's popular mobilizations despite military repression.
The Jury, composed by international experts and chaired by the UN Special Rapporteur on the Right to Housing, began its work on the 5th December in Santiago de Chile and continued its work in Madrid on the 8th December as part of the Social Summit on Climate Change parallel to COP 25.
The testimonies of the victims of the evictions, who did not find a place at the official summit, showed that governments do not take into account their legal obligations towards the protection of human rights, on the one hand, by not implementing policies to address climate change, and on the other hand, by adopting "resilient" policies that often hide their interests and those of people. This dis-responsibilization is encouraged particularly, by the absence of the "evictions" indicator by the COP to measure the impact of climate actions.
The Preliminary Recommendations call for a sensitive and human rights-based approach to climate action, recognizing people as rights holders. A comprehensive moratorium on evictions is needed, as well as the protection from all violence and criminalization of housing and land rights activists, human and nature rights defenders.
All parties responsible for evictions, states and companies, as well as the COP, will have 30 days to respond, after which the final Recommendations will become effective and be subject to monitoring of their implementation, in October 2020 as part of the World Zero Evictions Days and in December 2020 as part of COP 26.
---
---
---
---
---