World Zero Evictions Day 2009 Video Contest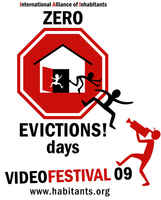 The International Alliance of Inhabitants is an international network of associations and urban social movements whose goal is to build another possible world, based on the right to housing and to the city without borders (the Organizer). We are launching an international contest open to all who have a talent for making videos and who would like to contribute to the struggle for the right to housing without borders.
The goal of the contest is to use the medium of film to raise awareness of the violations of the right to housing on World Zero Evictions Days 2009. The videos for the contest will be put online at www.habitants.org. The best videos will then be compiled into a DVD produced by IAI and shown on several continents.
World Zero Evictions Day 2009 Video Contest
Theme: The violations of the right to housing: resistances and alternatives
The winning videos: will be shown during the World Urban Forum (Rio de Janeiro, 22-26 March 2010) and at special events linked to the Zero Evictions Campaign in all the countries and continents where it is active.
Read the instructions carefully!
The 2009 World Zero Evictions Days Video Contest: You have until 31/01/10 to vote!
In order to participate, you need to:
Register on the website
Enter your user ID and your password
If you are already registered on the website, you can login directly by entering your user ID and password.