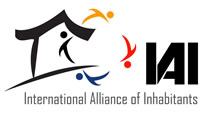 Retos del Derecho a la Ciudad y de la defensa del Territorio en tiempos de preparación de Hábitat III
Rumbo Quito: FSUM y Hábitat III >>> Mexico D.F. Sábado 5 de septiembre 2015
En el marco del debate sobre estrategias y actividades rumbo a Hábitat III (Día mundial del hábitat y Jornadas mundiales Cero Desalojos de octubre, Foro Social Urbano Mundial alternativo, etc.), el Grupo Promotor de la Plataforma Mexicana por el Derecho a la Ciudad y en Defensa del Territorio, convoca a una importante Reunión, Sábado, 5 de septiembre 2015, en Mexico D.F.
»
Rumbo Quito: FSUM y Hábitat III >>> Mexico D.F. Sábado 5 de septiembre 2015
The International Alliance of Inhabitants is a global network of associations and social movements of inhabitants, cooperatives, communities, tenants, house owners, homeless, slum dwellers, indigenous populations and people from working class neighbourhoods. The objective is the construction of another possible world starting from the achievement of the housing and city rights.